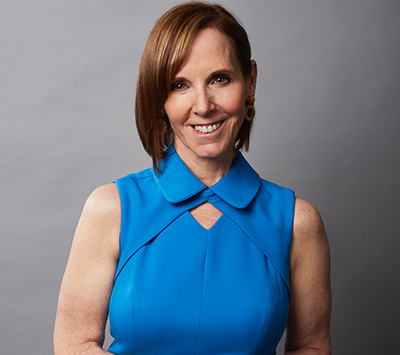 No doubt, Maura Regan (President Licensing International Inc.) is one of the most influencial women in (licensing) business. And a person with clear views and principles, she is willing to take a stand for. We proudly present this short interview with an executive, who has a message.
Bringing more than 20 years of global licensing and media experience, Maura joined Licensing International in December 2016 and assumed the role of President in July 2018. Under her leadership she is serving to help define and shape the future focus for the association.  Licensing International is the premier association for the global brand licensing industry. Its purpose is to foster the growth and expansion of licensing around the world and create greater awareness of the benefits of licensing to the business community at large.   
As the former head of global consumer products for Sesame Workshop, the home of Sesame Street, Maura drove the non- profit organization's strategic commercial initiatives with a focus on delivering significant unrestricted revenue to support the overarching philanthropic goals for the organization.  
Prior to Sesame Workshop where she enjoyed an exhilarating 17-year tenure, Maura held executive positions with MTV /Networks, Scholastic Entertainment and The Jim Henson Company.
Maura is a standing fellow of the US-Japan Foundation Leadership Program, a member of the Board of Directors of One Animation, an animation studio based in Singapore and the Toy Foundation.  Maura is also a contributing editor to the Forbes Council.   She earned a Bachelor of Arts degree in Art History from the University of Massachusetts at Amherst.  Recognized as a top leader in business by Irish-America magazine, Maura was also a recipient of the K.I.D.S. (now Delivering Good) Women of Achievement Award.  Maura resides in NYC with her husband Jim and their daughter Fiona. 
TOYS & GAMES Report: Maura, since you have taken over presidency at Licensing International so much has happened. Looking back, how do you feel these days?
Maura Regan: I am so proud of the work Licensing International has accomplished: new branding including a new name and visual identify, an all-new and improved website and directory, our university and school outreach programs, our seminal benchmark study on Inclusion and Diversity in the Licensing industry and the toolkit created specifically for our industry- free to both members and nonmembers and the great content we are creating every week with Newlinks.    And of course, the generosity of our industry led by our charity and foundation committees setting up a small business grants program to support those in our industry struggling because of the pandemic.  We have raised over $110,000 dollars in record time.  
TOYS & GAMES Report: What motivates you to keep on going?
Maura Regan: I get to champion this amazing industry .  And of course, our members, and the amazing colleagues around the world I get to work with every day.
TOYS & GAMES Report: What are the biggest current and future challenges for the licensing business? 
Maura Regan: The biggest challenge we all face is the pandemic. Future challenges specific to the licensing industry are less to do with demand and more to do with distribution networks- and re-imagining supply chains for the future.   
TOYS & GAMES Report: Do you see trends in licensing or is it a realm of eclecticism going with flow?
Maura Regan: There are trends in licensing driven by consumer behaviors and insights. 
TOYS & GAMES Report: If there is one sentence you would say to newcomers in the business, which one is it?
Maura Regan: Welcome to the licensing industry  where amazing successful careers are built and lifetime friendships are forged. 
TOYS & GAMES Report: Did you ever regret being in the licensing business?
Maura Regan: NEVER!
TOYS & GAMES Report: Licensing International clearly shows their attitude on political topics like "black lives matter" and diversity. Aren´t you afraid to upset more "right wing" oriented parts of the industry?
Maura Regan: There are clear business imperatives  to support businesses to create diverse and inclusive work environments .   
TOYS & GAMES Report: Do you feel showing purpose and attitude is more an opportunity for companies and associations, or is it a risk?
Maura Regan: Brand engagement and licensing are about the emotional connection between a brand and the consumer.  Research studies show that consumers want to know what their brand stands for, and are making purchase decisions based on such data.  Associating with a purpose that is true to your brand is an advantage. The risk for a brand is if they are not true to their principles and try and deceive the consumer.   
TOYS & GAMES Report: What´s your next project, you work on? Give us a sneak peek.
Maura Regan: Happy to- inclusion and diversity remains a focus as does sustainability.
TOYS & GAMES Report: Thanks Maura for these open and encouraging words. 
Maura Regan: My pleasure.